How do you turn your Colorado Springs property from average to ideal? Through a custom landscape design. A custom landscape design creates a space for you and your family to play and relax, adds property value, and will get all your neighbor's attention.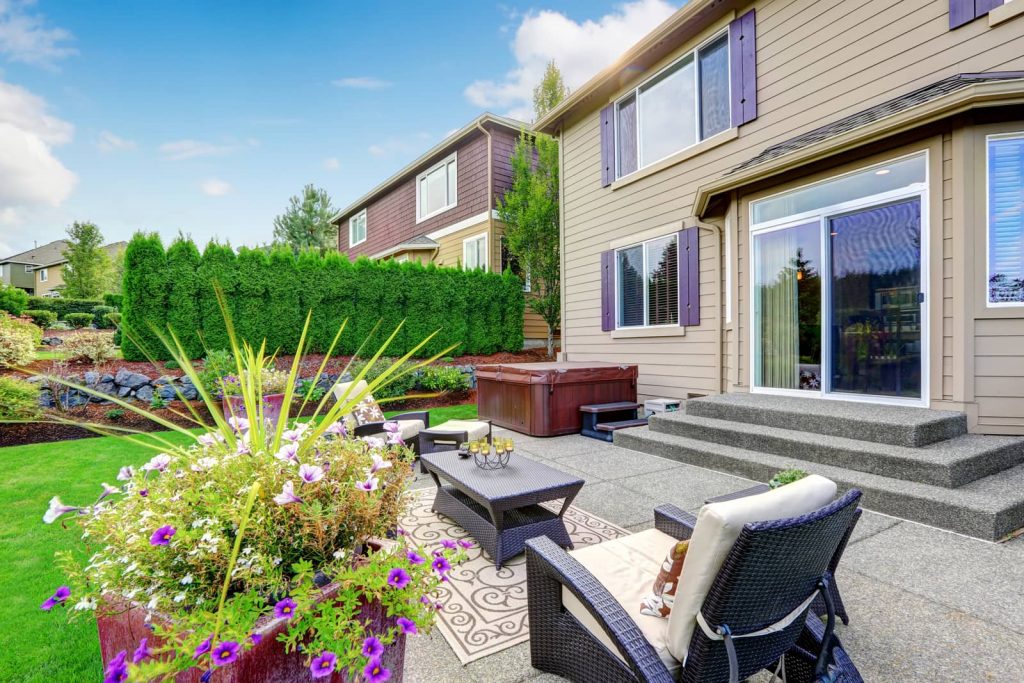 JS Enterprises is an expert on custom landscaping and wants to help you learn what's involved in a Colorado Springs custom landscape design. Let's discuss your options and how to get your own custom design started today.
What's Involved in a Colorado Springs Custom Landscape Design?
Hardscapes – Hardscaping involves building the new design directly into the surrounding environment. Great examples of hardscapes include patios, walkways, and exterior fireplaces. Hardscapes are considered more permanent than softscape work. Hardscapes help create more livable space with patios or easier navigation with decorative sidewalks and can help match the personality of your yard.
Adding / Removing Turf – A custom Colorado Springs landscape design can give you the perfect amount of turf. If you have small kids, you can expand your lawn or if you hate mowing you can remove all but a small patch. With a custom landscape design, you can also choose the right grass depending on its use, look, and water needs.
Adding / Removing Perennial Beds – You can fill perennial beds with shrubs and flowers for an injection of color every year. Perennial beds are one of the most fun parts of a custom landscape design since you can choose the plants and materials for a look that's unique to your property.
Adding / Removing Trees – Landscape design can use both native and ornamental trees to tie the whole design together. All the love goes to perennial beds, but the right tree can add color, texture, and shade for a sunny day. Landscape design also involves removing trees that no longer fit in the grand design.
Xeriscape Design – Colorado Springs has become water-conscious over the last few years which means many homeowners are turning to xeriscaping. Coined by Denver Water, xeriscape refers to plants and landscape choices that require little to no supplemental moisture. You might think xeriscape is all cacti but there are dozens of different plant options.
Custom Irrigation – Colorado Springs can get dry, but a custom irrigation system makes sure all your greenery gets the right amount of moisture. Custom irrigation involves drip systems, sprinklers, and other ways to get your plants their fill.  
Landscape Lighting – You don't want to have to go inside when the sun goes down, so light up your design with custom landscape lighting. You can use lighting around fencing, sidewalks, pools, decks, and more to transform your patio into an all-night party pad.
How to Hire Colorado Springs Custom Landscape Designer
Local Years of Service – Several years of service is good but several years of local service is even better. You only want to hire someone who knows the unique needs of Colorado Springs.
Licensed / Accredited – Any landscaper you hire should be accredited or licensed depending on the work involved. Placing plants around your property is an investment, not a guessing game. You want to be 100% sure the person making choices for your property knows what they're doing and that what you pay for is viable for your property. Any landscaping using fertilizer or other chemicals on your property must have a commercial application license.
Balance Quality and Budget – You don't want to hire a multi-million-dollar designer but you don't want to hire the cheapest guy either. When hiring a custom landscaper look for a balance between the quality of work and budget. Take the same thought with your plant selection and you'll have a great new yard without breaking the bank.
Samples and Referrals – Never hire a custom landscape designer without looking at their previous work and contacting their previous clients. Ideally, you'll be able to walk around other nearby custom landscape projects or at the least talk to previous clients and look at photos. If you don't like how their designs look, move on to the next potential hire.
JS Enterprises for Your Landscape Design in Colorado Springs
JS Enterprises has several years of experience creating and maintaining Colorado Springs custom landscape design and can help transform your dull property into a lush retreat, a high desert xeriscape, or whatever else you wish. Call JS Enterprises to discuss your wants, ideas, and budget, and we'll work with you to create the perfect design.
Transforming Your Property
Colorado's pleasant weather and fresh air is best enjoyed in your own personal paradise. If you're ready to build that paradise or get a small landscaping project done contact JS Enterprises today.