Colorado Springs residents enjoy their landscaping all four seasons. Whether it's sipping a cold beer on a warm summer night or relaxing with hot cocoa while watching snow fall. If you don't have a great outdoor space – you're missing out.
There are a seemingly endless number of things you can do or install to enhance your landscaping but one of the quickest and most affordable ways to take things to the next level is through landscape lighting. Let's learn what you need to know about how to design landscape lighting for your Denver, Colorado Springs or Castle Rock custom landscaping project. We'll talk about where your landscape lighting should go, whether solar landscape lighting is a viable option, and much more.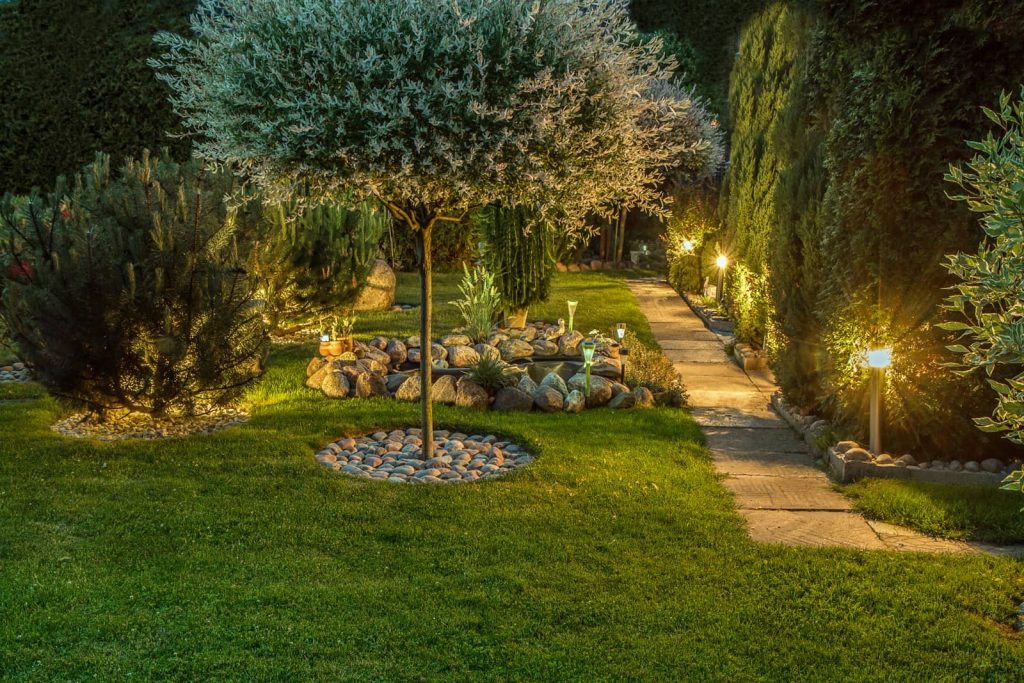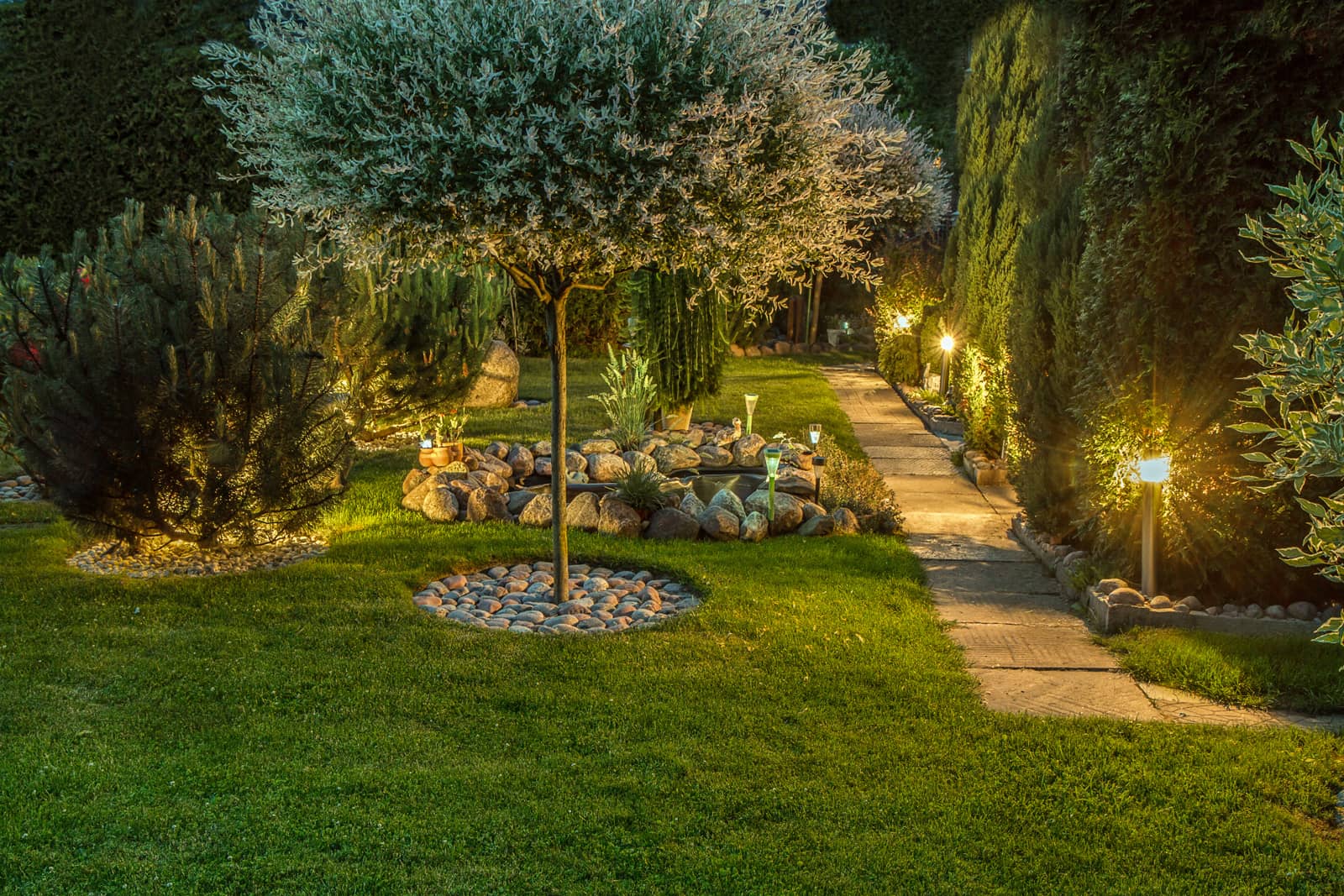 With a little time and a few lights, you can transform your boring outdoor space into a 24/7 hangout spot.  
Three Purposes of Landscape Lighting
Where to Place Landscape Lighting
Okay, you've decided you want landscape lighting but where should it go? How to design landscape lighting is entirely your call, your yard is full of great options like:
Fence lighting – Installing flood or other lighting against your fence shows off your property once the sun goes down. Fence lighting also provides visibility for guests and can enhance perennial beds at night.
Water feature – Water features are focal points so highlight them with landscape lighting. You can line your water feature with staked lighting or put lighting in the water feature itself.
Sidewalks – You don't want nighttime visitors (or you) spraining ankles on dark sidewalks. There are several affordable and customizable options for lighting sidewalks including in-ground and track lighting.
Patios – Are you doing to try to grill and eat in the dark? No way. There are tons of great options to add light to patios through staked lighting, decorative stringed lights and more.
Focal Points – Do the same thing museums and exhibits do to their focal points – light them up. Use small floods to highlight potted plants, water features, statues, or other focal points in your landscaping.
Stairs – Dimly-lit stairs are a quick recipe for disaster and injury. Give them some light.
Deck – Decks make a great platform for several types of landscape lighting. You can feed track lighting along the inside of rails or spotlight potted plants in the corner. An overhead array of decorative lights can turn a dull deck into your own backyard bistro.
Raised beds – Make your raised beds stand out with landscape lighting. A few tracks of LED lights or small floods can show off your gardening skills no matter where the sun is.
How to Select Landscape Lighting
Types of Landscape Lighting
Deck Lights – Manufactured to be installed directly on deck posts but useful for gazebos or other post lighting.
Track Lights – Long continuous strands of lighting, often LED. Useful for paths or to tuck under longer fixtures.
Hardscape lights – Installed onto stone, brick, or other hardscaped materials. These lights can be attached and detached to stone surfaces and are used around hardscape installations like patios and outdoor kitchens.
Floodlights – Floodlights highlight what you need or want to see on your property. Floodlights come big to small and are available with colored bulbs for some character in your backyard.
Well Lights – Well lights, also known as in-ground lights, are recessed into soft or hardscapes to provide light without a visual impact.
Step Lights – Outdoor lights manufactured for stairs and steps. Step lights are often in multiple pieces to provide light to the bottom and back of stairs at same time.
There are more types of landscape lighting options out there and some of these options can be used in place of others.
How to Dig a Trench for Landscape Lighting
While some lights are stand-alone, others must be plugged in to provide their light. You don't want unsightly cords and cables running the length of your lawn, so how can you hide them? Let's learn how to properly dig a trench for landscape lighting.
Lay Out the Lights – Lay out your lighting options where you plan to install.
Call Utility Company – Call your local utility company or line markers to mark all underground pipes and cables the in area you plan on installing landscape lighting. Getting everything marked can help you avoid an expensive or dangerous mistake.
Choose the Path – Choose an efficient path for wiring and use the least amount possible. Use zip ties and other accessories to clean up wires as you go.
Test – Wait until night and plug the lights in. Confirm final placement.
Lay the cable – Lay the cable as it will be dug in.
Dig – Move the cable to the side and dig your trench. For minimal disturbance cut your trench in a 'V' shape. Landscape lighting wires should be buried at least 6-12 inches.
Protect – Bare cables won't do well by themselves in the elements. Snake your cords through PVC or another type of conduit to keep them protected for the long run.
Bury – Bury the cables at the lowest spot of your trench.
Finish – Refill the trench and freshen up the area.
Are Solar Landscape Lights Worth It?
With solar landscape lights you don't have to bury or hide any cables and they produce their own clean power, but are they as good as grid-powered landscape lights? Sure – if you know how to use them.
Solar lights are incredibly easy to install and can be moved whenever you want but you must buy high-quality solar landscape lights and it must receive adequate sunlight to be worth it. If you have good lights and good sunlight you can use solar landscape lights to your advantage.
Designing Colorado Springs Landscape Lighting
JS Landscaping has been helping Front Range residents in Denver and Colorado Springs customize and install the best landscape lighting for years and would love to help you get your own custom landscape lighting project started. If you're ready to talk about how to design landscape lighting for your custom landscape design, call JS Enterprises for answers and a quote today.