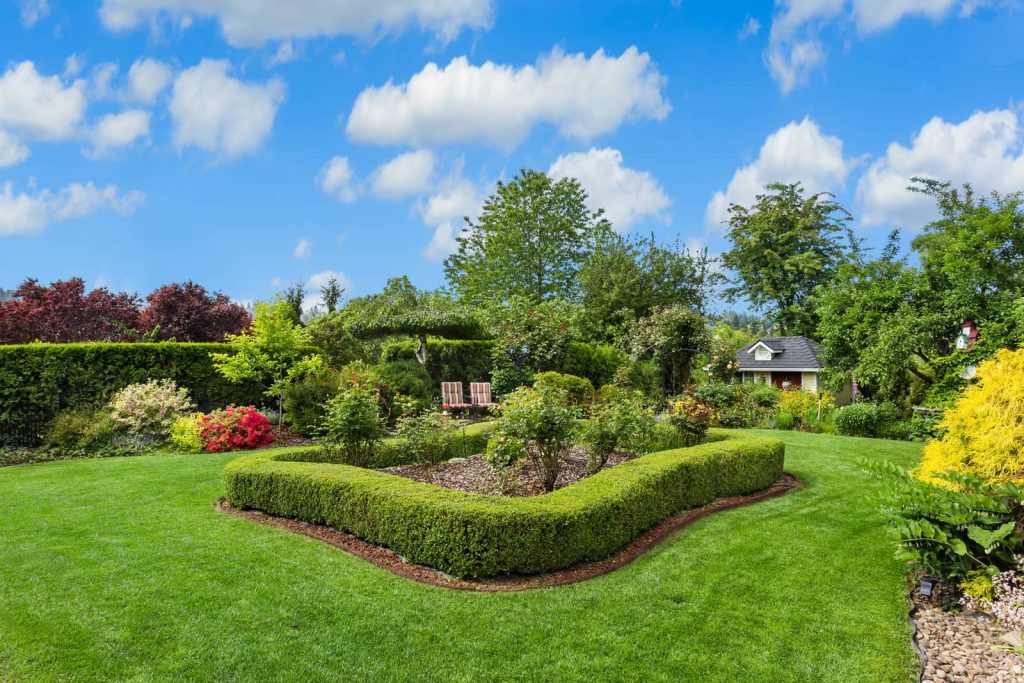 How Often Should You Mow Your Lawn?
It's one of the most searched landscaping questions and one that homeowners have been asking as long as lawns have dotted properties – how often should you mow your lawn?
In a perfect world all Colorado grasses would grow the same way at the same time, and mowing would never be in question – but that's not the case. Type of grass, moisture, sun exposure, seasonality, and more play a role in determining how often you should mow your lawn, but there are some general rules to give homeowners an idea of best steps.
Let's learn about how often should you mow your lawn, how you should follow the seasons, and other tips on best mowing practices for your lawn. When you mow the right way, your lawn will reward you.
General Rules for How Often to Mow Your Lawn
Forget any general time-based rules like mow once a week or every third day. Time of year, type of grass, and many other factors play a role in how fast your grass grows and how often you mow it. Instead of using the calendar, use your grass and the one third rule as a guide.
The one third rules states you should never mow more than one third off your lawn at one time. Cutting more than one third of a grass blade causes stress and you'll see that stress in a struggling lawn.
To figure out frequency, imagine your ideal lawn height – let's say two inches. You let the lawn grow to three inches, and then cut off the top inch. You've cut one third of the blade to achieve ideal height. However often your lawn makes it to three inches is how often you should be mowing your lawn. This will be less frequent during the slow growth of spring and fall and more frequent in summer.
You might need to use a ruler for the first few mows of the year but after a season of two you'll have an accurate feel on your lawn and how often it should be mowed without measuring.
For the most popular lawn types in the U.S. ideal height and the one third rule generally means you'll be mowing your lawn every few days to every couple weeks throughout the growing seasons.
When Should You Stop Mowing Your Lawn Before Winter?
The true winter season follows the calendar, but we all know winter weather can happen before late December and after late March. Like how often you mow, you shouldn't follow the calendar to know when to stop mowing your lawn before winter, but your grass instead.
No matter what the calendar says, you should stop mowing your lawn when it quits growing (or appears to quit growing.) This is known as your lawn's dormancy period. For warm weather grasses like St. Augustine or Zoysia, growing typically halts when soil temperature drops to less than 55 degrees. For cold weather grasses like bluegrass, rye, and fescue, seasonal dormancy normally starts when soil temperature remains consistently below 45 degrees.
When to Stop Mowing Your Lawn in the Fall
The same rules for stopping mowing your lawn in the fall are the same for winter, you should stop mowing when the grass quits growing. For southern states this can mean mowing well into the fall and even into the winter, but cold weather states might see dormancy starting as early as late September.  
Is it Bad to Mow Your Lawn in the Winter?
Whether you can mow during the winter depends on your lawn. Many warm weather states like Florida never see temperatures drop enough to stop grass growth, and those lawns will be mowed year-round. But what about the rest of the country, can you mow your lawn in the winter?
Generally, you can mow a dormant lawn without many issues. Many homeowners mow a dormant lawn to clean it of debris but mowing your lawn is 100% unnecessary for a great looking lawn come springtime. There are a few rules for winter mowing:
Should You Mow Before Aerating Your Lawn?
You should mow before aerating your lawn. Mowing before aeration allows for deeper aeration and makes for a more viable planting surface if you plan to reseed over overseed your lawn after aeration. When mowing before aeration, set your mower deck lower than normal and aim for a max grass height of 1 ½ inches, even if it breaks the one-third rule.
Getting with Local Experts
Grass growth, how often to mow, and how to mow during the seasons are highly dependent on your region, which makes a local expert's knowledge more helpful than general information. Take the guesswork out by hiring a great local landscaper.
Mowing the Lawn Right
How often you mow your lawn depends on how fast it grows and your ideal height, but you can put the mower away when grass quits growing. Watch your grass, mow at the right time, use the one third rule, and to skip any unnecessary work hire a local landscaper mow your lawn the right time, every time.