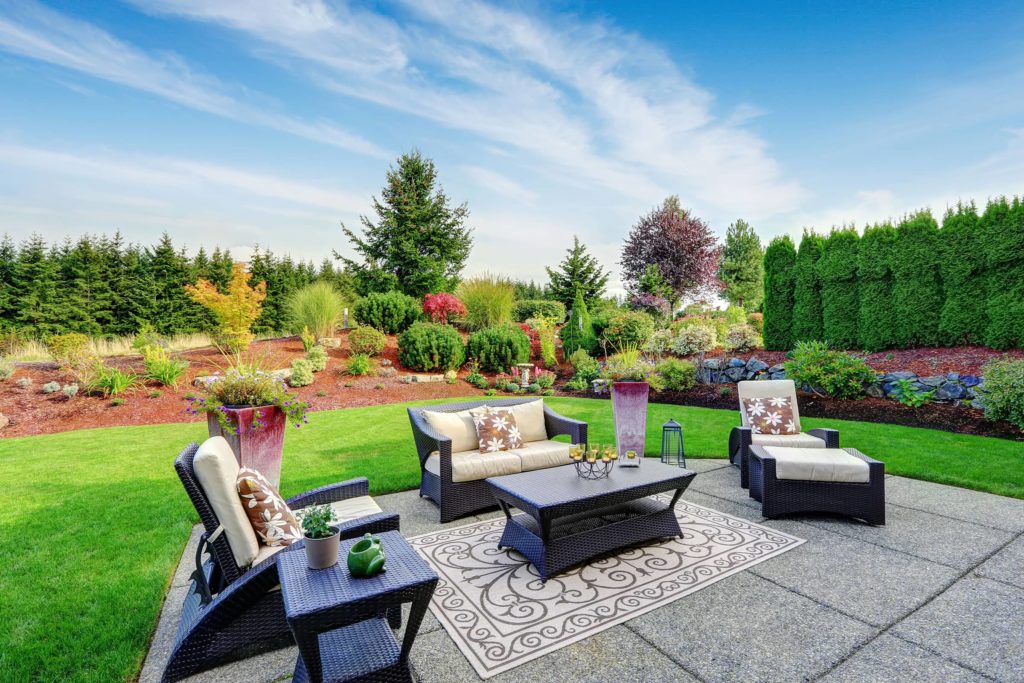 How To Design A Patio in Denver
Creating the perfect patio for your Denver home is a great way to enjoy the city's warm summer nights and beautiful scenery. Whether you're looking for a space to entertain guests or just a place to relax and enjoy peace and quiet, designing the right patio can make all the difference. With a few careful considerations and tips, you can create a beautiful and functional outdoor oasis. In this article, we'll look at designing a patio that fits the Denver lifestyle. We'll explore the best location and size, the different functions and layouts, water features and fire pits, a planting scheme, furniture and shade, privacy and position, and hardscaping and xeriscaping. With this guide, you'll soon have a patio that's perfect for you.
The first step is figuring out where and how big you want your outdoor space to be! Location is vital when it comes to designing a beautiful patio for your Denver home. Patios are a great way to add an outdoor living space for entertaining family and friends. Finding the right spot in your yard will be the foundation for your design. You'll want to ensure plenty of room to move around without feeling cramped. You can consider a smaller patio design if you need more space. If you have more space, you can consider a larger design with multiple seating areas, a fire pit, and a bar. Having a plan in place will help you create a beautiful patio that you and your family will enjoy for years.
To make the most of your outdoor space, think about the function and layout of the area. When planning the patio design, consider how you plan to use the space and how to make the most of the space you have.
Think about the comfort of the area. Is it going to be a place to relax or entertain? What type of furniture and lighting do you need to accommodate? Will you need a heating element to keep the area warm on cool nights?
Think about the style of the area. Do you want a modern, contemporary, or traditional look? What colors, textures, and materials should you use?
Finally, think about the practicality of the area. Consider the climate, sun exposure, drainage, and any other elements that might affect the patio's longevity. Will you need to add a roof or awning to protect the area from the elements?
Water Features and Firepits
Adding a water feature or firepit can enhance the ambiance of any outdoor space, elevating it to a more luxurious level. Water features, such as fountains or ponds, can provide a calming and peaceful atmosphere, while firepits can provide a cozy and inviting atmosphere, perfect for entertaining guests. When selecting a water feature or firepit, consider the size of the patio and the surrounding landscape. A well-designed water feature can be an eye-catching focal point and provide a soothing soundscape. On the other hand, firepits should be placed away from the house and any other combustible materials. Consider the type of firepit you want, as there are many options to choose from, such as gas or wood burning. No matter which option you choose, follow all safety guidelines and local ordinances.
Creating a lush, inviting outdoor space in Denver requires a carefully planned planting scheme. A well-designed planting scheme can integrate the patio into the existing landscape, soften harsh edges, and create a natural oasis to relax and enjoy. Here are four tips to consider when designing a planting scheme for your Denver patio:
1. Choose the right plants – Choose plants that can thrive in the Denver climate. Hardy evergreens, native plants, and drought-tolerant perennials are all great options for the Denver area.
2. Incorporate color – Add splashes of color and texture to your planting scheme with colorful annuals and perennials. Consider adding a wildflower meadow or a cutting garden for a burst of color.
3. Plan for shade – Plant trees or tall shrubs to provide shade to your patio. This will help keep the patio cool during the hot summer days.
4. Include scents – Add aromatic plants such as lavender, thyme, and mint to your planting scheme to provide a pleasant scent when walking on the patio.
Outfitting the outdoor space with furniture and shade can make it more inviting and enjoyable. You can create a cozy spot to relax with comfortable seating and a dining area that can be used for entertaining guests. To create a well-rounded space, add some outdoor lighting and a few throw pillows for a pop of color. Opt for a shade-producing option like a sun umbrella or pergola to ensure you and your guests remain comfortable during warm days. Additionally, investing in a quality outdoor ceiling fan can keep your outdoor space cooler and more enjoyable. Consider adding a few plants to your space to keep things fresh. With thoughtful planning and creative design, you can create a beautiful and inviting patio space for your Denver home.
Ensure your outdoor space has the privacy and position you desire by carefully considering the layout and placement of furniture and shade. Privacy can be achieved by strategically placing tall plants or shrubs around the patio's perimeter to create a secluded area. You can also install a privacy fence or trellis to block out neighbors or passersby. Positioning is also important when designing a patio. Consider where the sun will be at different times of the day and adjust accordingly. For instance, if you want to enjoy the morning sun, make sure to orient your patio chairs and tables in the appropriate direction. If you plan to entertain in the evening, consider adding outdoor lighting to ensure your space is well-lit. Be sure to leave plenty of room for movement and comfort so your guests can move around freely. With some thought and planning, you can create the perfect patio for your Denver home.
Hardscaping and Xeriscaping
Hardscaping and xeriscaping can add texture and interest to your outdoor space, allowing you to make the most of your patio while using less water. Incorporating hardscaping, like rocks, stones, and pavers, can create a functional space that you can use for seating, pathways, and more. Additionally, xeriscaping is a great way to add vibrant, water-wise plants to your patio. It consists of native and drought-tolerant plants that require little yearly maintenance. With the help of a professional, you can design a beautiful and sustainable patio with various hardscape and xeriscape elements. From the addition of outdoor furniture to the integration of native plants, your outdoor space will be a reflection of your style and taste.
You've now got the perfect patio for your Denver home! You've chosen the ideal location, size, and layout that fits your needs. You've also added beautiful water features and firepits, carefully selected plants, furniture, and shade for comfort. You've considered privacy and position and gotten creative with hardscaping and xeriscaping. Your patio is now a beautiful and functional outdoor space that will be enjoyed for years to come. So sit back, relax, and enjoy the beauty of your outdoor oasis!
If you're looking for a unique and custom outdoor living space, call JS Enterprises today. Our experienced designers will work with you to create a one-of-a-kind landscape and patio that reflects your individual style. Don't wait – call now and let JS Enterprises turn your dream outdoor living space into reality.