What is Hardscape Landscaping?
Hardscape landscaping is an incredibly versatile and beautiful way to enhance the look of any outdoor space. It involves combining a variety of elements like stone, wood, and other materials to create attractive and unique outdoor designs that add value to homes and businesses alike.
Hardscape landscaping involves creating structures that are both aesthetically pleasing and highly functional, like a backyard patio with a fire pit surrounded by pavers and decorative stones. These structures may include pathways, walls, decks, gazebos, or patios – all designed to add value to your home and landscape while enhancing its beauty. When it comes to hardscapes, there are endless possibilities for creative design ideas, making them ideal for any residential or commercial property.
Materials Used in Hardscape Landscaping
Materials used in hardscape landscaping range from natural elements like stones and gravel to manufactured products such as interlocking blocks or even poured-in-place concrete. Depending on the project's needs and budget constraints, you may choose to use one material or combine different types for an eye-catching effect.
Modern technology has also enabled homeowners to incorporate lighting features into their designs, adding dimensionality and visual interest during evening hours. With a careful selection of materials and thoughtful planning, you can create a unique oasis outside your door that will provide years of enjoyment.
Most Popular Styles of Hardscape Landscaping
Stonework –

 Stones such as granite, limestone, or marble can be used for pathways, steps, or walls to add texture and visual interest to any landscape.

Concrete Pavers –

 Concrete pavers come in various shapes, sizes, and colors that can be arranged together to form beautiful patios or walkways with an array of patterns.

Natural Stone –

 Natural stone is another great material for creating unique features like retaining walls, garden beds, or water features. It adds a rustic look while also providing durability and strength.

Brickwork –

 Brickwork is often used for edging along pathways or borders around flowerbeds for a classic look. Additionally, it provides structure and support for any hardscapes you may have built in your yard.

Timber Decking –

 Timber decking is perfect for adding warmth and character to an outdoor space. Whether it's attached directly to the house or free-standing on its own as a platform deck, wood will bring warmth and charm no matter where it's placed.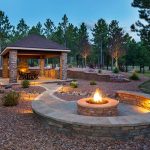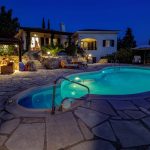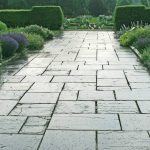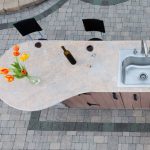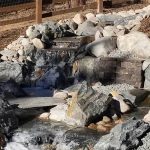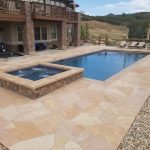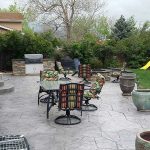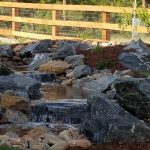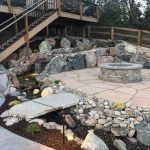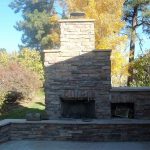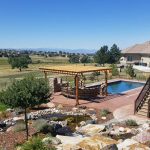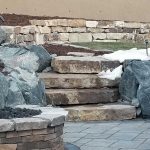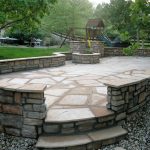 These popular materials provide both functionality and aesthetic appeal when incorporated into hardscape designs. They create unique looks that will last years without requiring much maintenance when mixed together.
Benefits of Hardscape Landscaping
From an aesthetical standpoint, hardscapes can be used to define a space or create order out of chaos in any garden design.
Hardscaping materials like stone, brick, concrete, and wood give texture and definition to a property that softscape elements alone cannot provide. This makes it easier for designers to draw attention away from undesirable features while creating visual interest with different textures and colors.
The most significant benefit of hardscape landscaping is its longevity. If properly installed and maintained, these materials will last much longer than organic materials such as mulch or plants. The cost savings over time are significant due to lower labor costs associated with cleaning up debris, replacing dead plants, etc. In addition, hardscaping adds value to your home by increasing curb appeal, which could lead to higher resale prices. There are countless advantages to using hardscape materials in your outdoor living areas.
Hardscape Landscaping Design Considerations
When designing hardscape landscaping for your yard, there are numerous considerations to consider. First and foremost is the budget; the layout and size of the project must be tailored to your resources. It's also important to understand which materials will best suit your design needs as well as any restrictions that apply in terms of local building codes or regulations. Here are some key points to consider when planning out a hardscape landscape:
Hardscape Design –

 Consider the overall look you want to achieve with your patio, walkway, retaining wall, etc. Look at materials such as pavers and stones that can help bring this vision together.

Landscaping Design – 

Incorporate elements like trees and shrubs around your hardscape structure to create natural beauty and enhance outdoor living spaces.

Patio Design –

 Determine how much space you'll need for seating areas, fire pits, BBQs, etc. while leaving enough room for comfortable movement.

Walkway Design – 

Think about how wide these pathways should be (3-4 feet typically) as well as what type of material you would like them constructed from (concrete/bricks/pavers).

Retaining Wall Design – 

Retaining walls provide stability and support but should also match other nearby structures' aesthetics. Before installation begins, consider height requirements based on soil conditions.
Homeowners need to understand different design considerations for the best-finished project but don't be intimidated if this all seems too foreign. A great hardscape design professional can walk you through different considerations for the best-finished product.  
Maintenance Tips for Hardscape Landscaping
Here are some helpful hints for taking care of your outdoor space and keeping it looking great:
First is making sure all materials used in the installation are sealed correctly. This includes pavers, stones, blocks, and any other material that has been laid down on the surface.
Sealing these materials will help protect them from weathering damage over time. It's also important to regularly check for signs of wear or deterioration and make repairs if needed.

Another key part of hardscape landscaping care is cleaning off debris such as leaves, grass clippings, dirt, and dust. These should be removed with a broom or leaf blower on a regular basis so they don't accumulate in areas where water can pool up and cause mold or mildew growth. For more stubborn stains like oil spots or bird droppings, use a pressure washer to clean them away without damaging the surface underneath. Finally, ensure that any plants surrounding the area are trimmed back regularly so they don't interfere with the structure itself.
By following these simple steps for proper hardscaping maintenance tips, you'll keep your outdoor space looking its best for years to come!
Getting the Most from Your Property with Hardscape Landscaping
If you are looking for a way to improve your outdoor space while creating something both functional and aesthetically pleasing, then hardscape landscaping is definitely worth considering. There are several options for several budgets, so whether you have $1000 or $100000, there are plenty of ways to enhance your space. Remember – with careful thought and proper care, your dream landscape could be just around the corner!
If you're looking to increase the beauty and value of your property, call JS Enterprise Custom Hardscaping Service today! Our team of experienced professionals can create a unique and beautiful hardscape design to fit your needs. From flower beds to retaining walls, we have the expertise to bring your outdoor vision to life. Contact us now for a free design consultation and estimate.