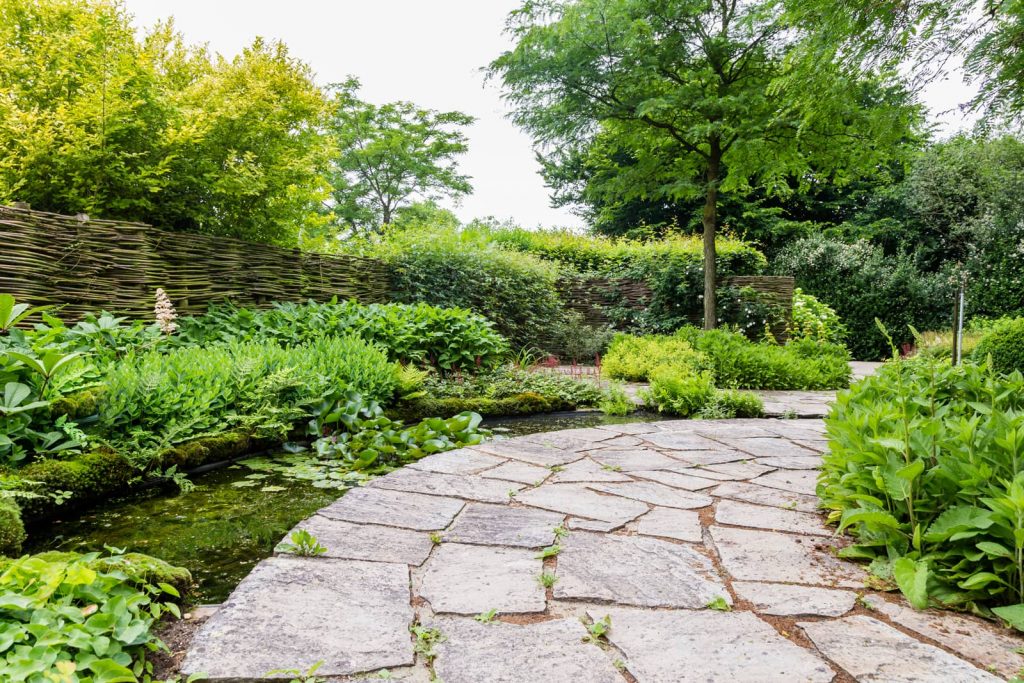 Flagstone Landscaping Ideas
Your property is yours to make your own. A house and property have virtually limitless remodel or retouch potential, but there are certain projects that are more popular than most – like installing flagstone landscaping.
Flagstone is customizable, beautiful, and will look great on your property for years, but there's more to flagstone than meets the eye. Let's learn more about this popular paving material including what defines flagstone, flagstone landscaping ideas, and how to install and maintain a gorgeous flagstone patio or driveway.
Flagstone is the catch-all term for flat stone slabs used in paving projects though they're traditionally made from sandstone. Flagstone is flat and normally rectangular though the patterns and shapes can vary widely. Natural flagstone, like slate or quartzite, will have random shapes, textures, and sizes.
Six Flagstone Landscaping Ideas
If you like the look of flagstone but are not sure what to do with it, check out these six flagstone patio ideas that can work for just about any property.
Flagstone Through the Garden
You can use flagstone to lead visitors on a tour through your outdoor space. If properly laid out, flagstone gives a directional appearance which means you can use it for leading paths to and from your matching flagstone patio and throughout different highlights of your backyard.
Flagstone to Central Feature
Flagstone can be installed to lead to a central feature on your patio. This could be a grill or water feature, but flagstone is used most often with firepits and chimneys. A matching flagstone patio with outdoor fireplace creates a flagstone patio and outdoor kitchen you can use year-round.  
Don't have the room for a full-scale patio or want to keep some yard space for the kids? How about a flagstone grill pad? You can use flagstone to create an island or small pad for your grill or a grill with a table and chairs. If building a flagstone grill pad away from the house, don't forget to consider outdoor lighting, so you can get the most out of your grilling space year round.
Does your home have a regal slate roof or a slate-style walkway? Use a flagstone that mimics the look of slate. Do you live in an adobe-style home? Choose a traditional earth-toned flagstone. Flagstone is available in many colors, shapes, and variety to let you choose one to match or complement your property.
Matching Patio and Garden
If you want to build your outdoor space into one cohesive area another flagstone landscaping idea is to match your garden to your flagstone patio. You might not use the same flagstone from your patio to build garden walls or structures, but you can find a close match for a gorgeous well-planned property.
Due to its directional nature, flagstone makes an excellent building material for walkways. Obviously, people know how to walk on flagstone patios without "directions" but it's not about the literal help, it's about the appearance. Play around with flagstone to create unique walkways around your property. Having your walkway start a bit wider can help "funnel" guest into your garden or patio area. This makes it feel like the destination is being revealed, for a dramatic experience.
Flagstone doesn't require much maintenance to look its best but requires some work by the homeowner. Without cleaning and maintenance your flagstone patio could become discolored or age prematurely. Luckily, it's easy to clean and maintain flagstone.
How to Clean Flagstone
Treat your flagstone like you would a stone-tiled kitchen floor. You should keep standing water off your flagstone, sweep regularly or after a spill, and use flagstone specific cleaner for any stains. You should never use a pressure washer on flagstone as it can damage the stone. Switch the pressure washer for a garden hose on a medium setting. Regular cleaning and maintenance can add years to your flagstone installation.
Flagstone is gorgeous but it's also expensive to buy and labor intensive to install. If you love the idea of a flagstone walkway or patio but can't afford real flagstone, you can try an alternative like stamped concrete.
Concrete stamping is a mold or roller placed on wet concrete to mimic the appearance of other premium paving materials like flagstone. You can also add color to concrete stamps to create a custom faux flagstone finish. It won't be an exact match, but the savings is worth it for many homeowners.
Hiring a Custom Landscaping Company for Flagstone
Flagstone design and installation is not recommended for DIY installation. It takes an expert to choose the right flagstone, prep the site for proper drainage, and lay the flagstone in the perfect pattern.
If you're ready to get started on a flagstone project look for a local landscaper with a great reputation and a portfolio of flagstone installations already under their belt. Be sure to discuss all your flagstone landscaping ideas to what's possible and within budget. A good custom landscaping company should be able to give drawing, rendering, and quotes before a shovel ever hits your dirt.
Install Your Flagstone Today
If you want to create a gorgeous outdoor space or match your patio to your home's exterior than beautiful flagstone is the way to do it. Take your time choosing your flagstone and consider alternatives like stamped concrete if flagstone isn't in your budget. Flagstone might be nothing more than flat stones, but it can transform a property. Contact us today at JS Enterprises for a quote, or more flagstone landscaping ideas.