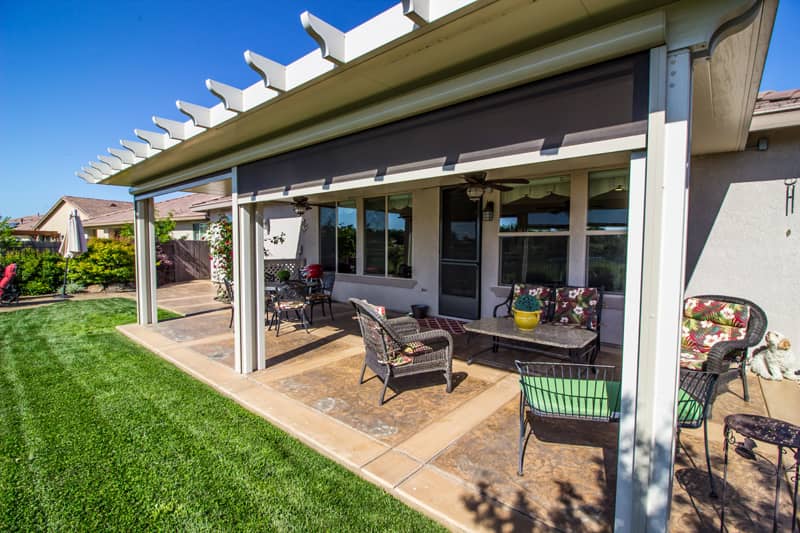 What is Stamped Concrete?
Concrete has helped shaped the structures of our modern world but it's not always the most beautiful building material. Concrete by itself is uniform, untextured, and won't provide much character to a property but that's why stamped concrete exists.
If you want to add personality to long boring stretches of concrete, stamped concrete is the way to do it. Let's learn more about stamped concrete including what it is, common questions, problems, and more. If you're not at least considering stamping your concrete you're missing out on easy and affordable character.
Stamped concrete is concrete that is stamped with a tamp or rolled mold. After the concrete is poured the stamp is rolled or tamped onto the fresh concrete and pulled off before final curing to achieve a custom finish. Stamped concrete is also known as textured or imprinted concrete
Stamped concrete can be modified in two ways – texture and color. The physical form of the mold is built to shape the concrete into faux pavers or brick while color can be injected during rolling or tamping for more character. Stamped concrete traditionally uses a base color and accent color for best results. The base color provides the overall color scheme for concrete while an accent color can be used for more character, faux aging, and to create more depth.
Stamped concrete can be modified to mimic brick, flagstone, patio pavers, villa tile, and much more. There are dozens of different stamped concrete patterns to achieve the look or texture you want. Using a stamp to mimic layouts instead of the real deal can save homeowners thousands of dollars.
How to Seal Stamped Concrete
Concrete can lose its natural beauty and protective qualities over time, but it will look better longer with proper sealing. When sealing a stamped surface, you want to search for sealing products that are formulated for stamped concrete. Stamped concrete is more compact than standard concrete, so it requires a different formulation for proper sealing. As a bonus, sealant for stamped concrete will give your surface a sheen that normal concrete sealer won't.
Once you've found a proper stamped concrete sealant, seal the concrete as you normally would. Follow all directions on the sealant and work slow and methodically for a beautiful finished product. You can also hire a landscape or concrete contractor to professional seal the stamped concrete for a small charge.
Is Stamped Concrete Slippery?
Stamped concrete sealant provides a sheen to the surface of your stamped concrete but that sheen can make your concrete more slippery. Fortunately there are several ways you can make your stamped concrete slip-resistant by adding nonslip additives to your sealer, choosing a highly textured surface from the outset, or by spreading ground-up grip to the surface when the sealant is still wet. Stamped concrete can be slippery, but it's easy to fix.
How to Clean Stamped Concrete
Stamped concrete takes a little more TLC to clean that traditional concrete but that doesn't make it more difficult. Instead of treating your stamped concrete like, well, concrete, treat it like a tiled surface in your house. Use a garden hose, mild cleaner, and bucket and brush or mop to clean your stamped concrete.
Note: Stamped concrete that's regularly sealed will repel dirt and grime much better than stamped concrete in poor maintenance. Never use a pressure washer on stamped concrete or you could damage the sealant.
Is Stamped Concrete Cheaper than Pavers?
Stamped concrete is cheaper than pavers by a wide margin, but if done right can have just as beautiful of a finished look.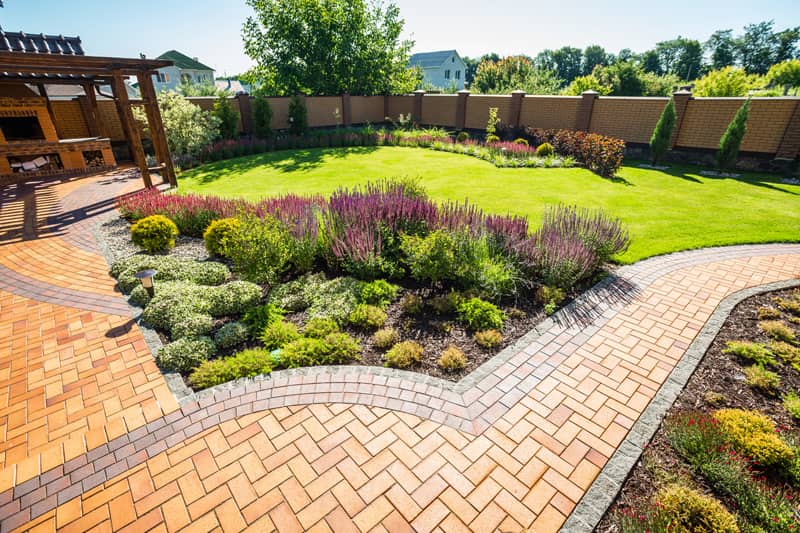 Stamped concrete is more affordable than brick, flagstone, and several other styles of path. While pavers must be laid and aligned by hand, stamped concrete can achieve the look of pavers with normal concrete and a few minutes to stamp.
Because the labor (and material) for stamped concrete is exceedingly less expensive than pavers, it's the best way to achieve that paver look on a budget. Stamped concrete won't last as long as pavers, but the major price drop is worth it for most homeowners.
Stamped Concrete Problems
Stamped concrete does have some common issues like cracking, slipperiness, and a shorter lifespan than other materials like pavers but most of those issues can be avoided with proper maintenance and anti-slip materials. For the cost, the small problems that come with stamped concrete are worth it.
Don't Pour Boring Concrete, Stamp It
With just a simple roll or a drum or pressing of a tamp your concrete can take on a new life and a new look. If you're ready to install a patio or driveway and need some character, stamped concrete is a fantastic option. Talk to our experience team at JS Enterprises to learn more about stamped concrete, your options, and how to schedule your stamped concrete installation today.