Let' imagine a scenario: You just bought a brand-new property in Colorado Springs. While the home is exactly what you wanted, the outdoor space is lacking. You walk to your back door and there's nothing but large patches of mediocre grass as far as the eye can see – what can you do?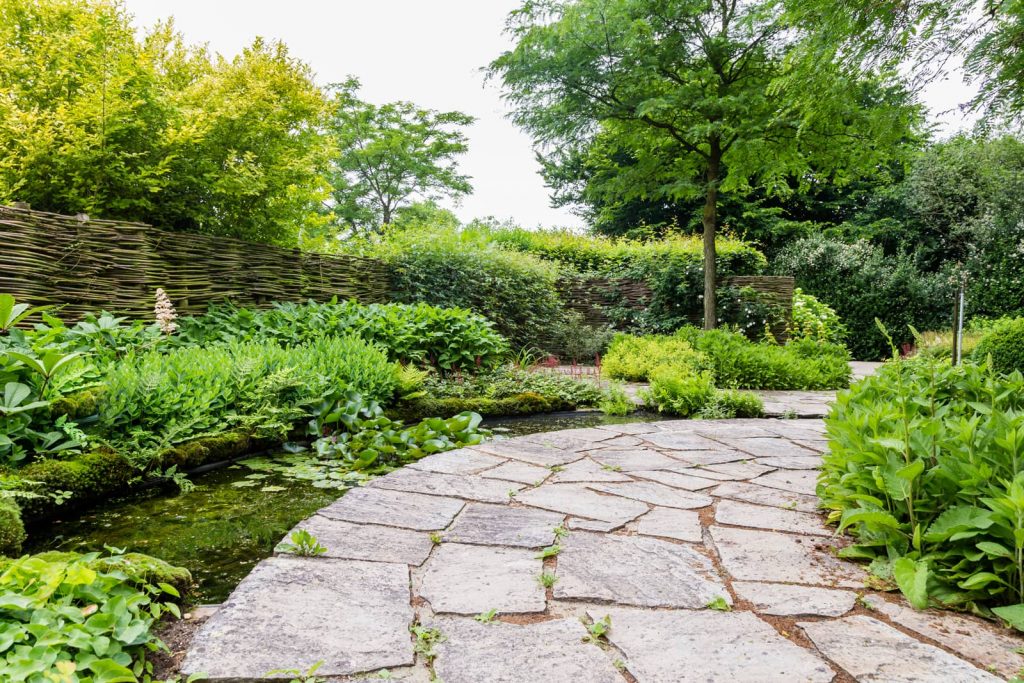 You put down flagstone. Flagstone is not new to the market but has become increasingly popular over the years as an easy and great way to spruce up your backyard into a year-round party pad. If you've only now come across flagstone, you probably have plenty of questions, but JS Enterprises is here to help.
Let's learn everything you need to know about flagstone including what it is, how it compares to other paving materials, associated costs compared to other paving, and how to maintain your flagstone. Flagstone is versatile, strong, and looks great, it's time to get some installed.
What is Flagstone? The Basics
Flagstone is the generic term for flat stone used for patios, sidewalks, and other outdoor settings. Flagstone is flat but can be cut into irregular and formal shapes depending on the project. Flagstone is available in several types of textures and colors for a variety of home styles and projects.
What to Use Flagstone For
Patios – Patios are one of flagstone's two primary uses and the best way to show off flagstone.
Walkways – Concrete walkways are boring and expensive, but a flagstone walkway provides an inexpensive and aesthetically pleasing way to move around the property.
Driveways – Yes, you can use flagstone for driveways. Flagstone driveways are expensive but will last for decades and look great while doing it.
Beautiful – Flagstone is gorgeous. Because it's available in so many textures and colors, it's easy to find the right type of flagstone to match your home or garden.
Affordable – Flagstones after all are just flat rocks. Flagstone is not expensive so you might be able to expand your project ideas.
Versatile – You can use flagstone over your entire property for a variety of purposes. You can use one type of flagstone in the back and a different type in the front.
Easy to Repair – Any flagstone that breaks can be replaced with more flagstone. Homeowners can do some smaller flagstone repairs.
Breaks easily – Flagstone may not super strong and certain materials will break if stressed. The most common reasons for breaking are dropping heavy items on flagstone or poor installation.
Needs regular cleaning and sealing – Without regularly cleaning and sealing your flagstone will look dirtier and age more quickly. Fortunately, most flagstone maintenance takes only a couple hours twice a year.
Large projects can get costly – Flagstone is more expensive than asphalt or concrete for large scale projects like driveways or big patios.
Can Be Difficult to Match – It's tough to find exact matches for repairs and project expansions.
Answering Your Questions About Flagstone
Small projects can be handled by homeowners but any medium to large scale flagstone projects should be handled by a certified contractor. There's much more to flagstone than plopping them on the ground including drainage, grading, material selection, and more. If you want to tackle a small project, there are many great YouTube tutorials but everything else should go to the pros.
What to Put Between Flagstone?
You have several options of what you can put between flagstone. The most popular filler materials are sand and gravel, but you can get creative with mulch, stone dust, mortar, grass, or plants.
Flagstone used for patios and driveways is normally finished with grout though other flagstone projects might not require fillers. For areas that won't be grouted, JS Enterprises recommends planting 'steppables' between flagstone. Steppables are plants that are okay to get walked on. A professional landscaper can help you match flagstone to filler material.
There are two ways of tackling flagstone cuts – rough and precise. For a rough cut you only need to mark the section of stone you want gone before using a hammer and chisel to pound the section out. For a precise cut you'll need to use a circular stone saw. Stone saws are generally only used by professionals but can be rented at local home improvement stores.
Clean flagstone is beautiful to look at, but it will get dingy and dirty over time. You can bring that original sparkle back with a little cleaning. You can use a pressure washer on a low setting or tackle your flagstone with a mop and detergent like you would a dirty tile floor in your home. Stay away from harsh chemicals and give everything a thorough rinse before finishing.
If you've gone through the trouble of cleaning your flagstone you've done double-duty by also preparing the flagstone for sealing. Sealing fills in microscopic pores helping to make your flagstone water and weather-resistant while also restoring a fresh look.
You can purchase flagstone cleaner and sealer from any local home improvement store or have your local landscaping company take care of the cleaning and sealing for you. If you're going the DIY route, follow all directions on your unique sealer to avoid staining or compromising your flagstone.
Aim to clean your flagstone at least twice a year, and to seal it at least once a year.
Pro Tip – Make sure to check your flagstone sealer's finish. Glossy will give you a shiny but unnatural appearance so most homeowners choose a non-reflective matte finish that enhances the flagstone without polishing it.
Expert Flagstone Installation by JS Enterprises
If flagstone sounds like the right choice for your project, you're ready to call us at JS Enterprise for more information and to discuss your unique project. JS Enterprises has decades of experience installing flagstone across Colorado's Front Range and can give you the results you've always dreamed of. We can help design, install, and maintain your own project.
Don't wait while the summer landscaping lines fill up, call JS Enterprises to get your flagstone project started today.