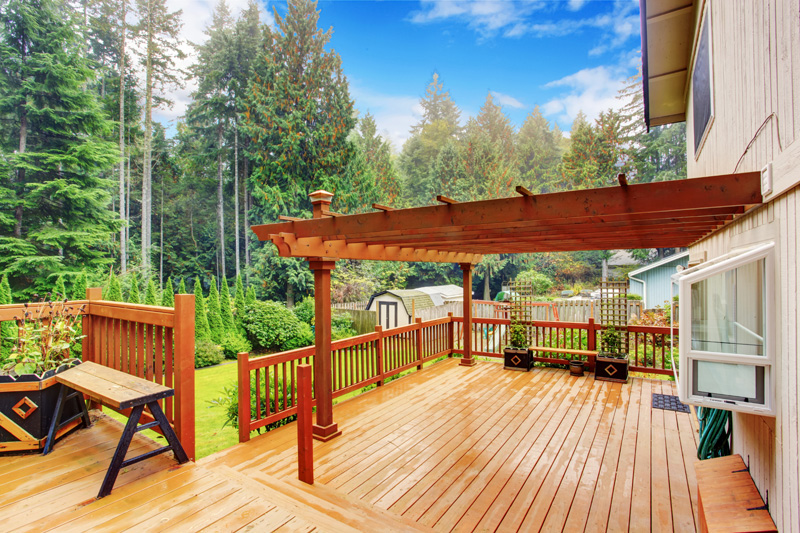 If there's one thing Coloradoans appreciate – it's the outdoors. Colorado is known for 300 days of sunshine and Colorado residents love spending those days outside on their personal patio or nestled in a beautiful garden.
There are many unique structures and ideas that can bring an outdoor space to life, but nothing ties a property together like a professionally installed pergola. Whether you're in Colorado Springs or Palm Springs, a pergola is an easy way to bring character and shade to your outdoor space, but what goes into putting a pergola in your outdoor space?
In this blog we'll answer the question, "What is a Pergola" and learn about what they're meant for, who can install them, and other tips on constructing your own pergola. If you want a quick way to add life to your outdoor space, think pergolas.
What is the Purpose of a Pergola?
A pergola is an outdoor feature designed to provide shade and aesthetic appeal to your garden. Pergolas are typically built with four vertical posts to support a latticed roof. Some pergolas have covered roofs, but traditional pergolas have slatted, lattice-style roofing to assist with vining plants
Essentially pergolas look good and keep you cool while providing a structure for climbing plants like roses or other vines. Many pergolas are placed over outdoor living spaces like patios, pool decks, and outdoor kitchens.  
Pergolas vs. Other Outdoor Structures
Pergolas and arbors both nestle into your outdoor garden space and provide a structure for climbing vines, but are generally different in size and shape. Arbors tend to be small arched structures meant for garden entrances while pergolas are larger, rectangular, and are intended for lounging and enjoying your garden.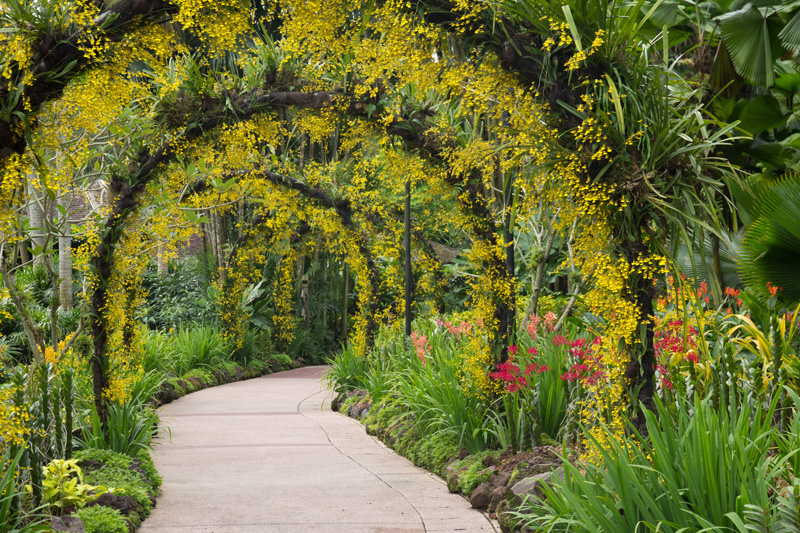 A gazebo is a much more built out, finished, and expensive outdoor structure when compared to pergolas. All gazebos are roofed and have their own finished flooring while pergolas have lattice roofs and are often installed over grass or independent flooring.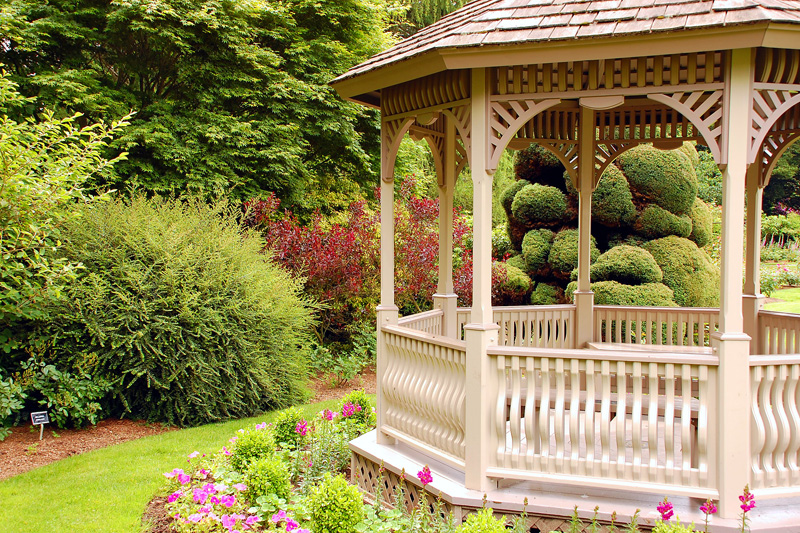 Do Pergolas Provide Shade?
If you want them to. There are many types of pergolas and while most have a lattice structure on top, pergolas can be built with fewer openings or a solid top.
Pergolas topped with lattice structures are built that way to allow climbing and vining plants to eventually wrap around the top, creating natural shade. The more vines, the more shade. Pergolas won't provide the same shade as a more rigid topped structure like gazebos but unlike gazebos, pergolas blend into a garden instead of standing out.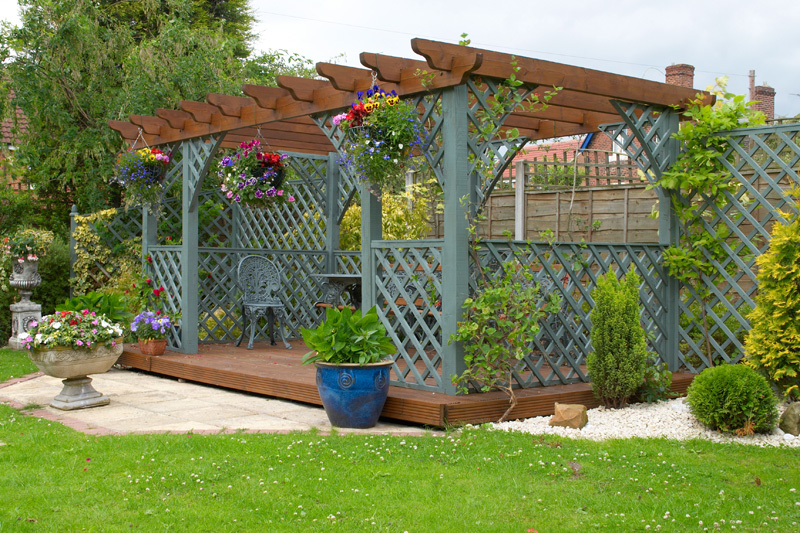 Do I need a Permit to Build a Pergola?
It depends. Not all jurisdictions require building permits for pergola installation while others may only require permitting based on certain sizes or job valuations. Don't risk having to tear down your unpermitted pergola, hitting a critical utility, or risk a civil fine, check with your local building jurisdiction before you begin installation.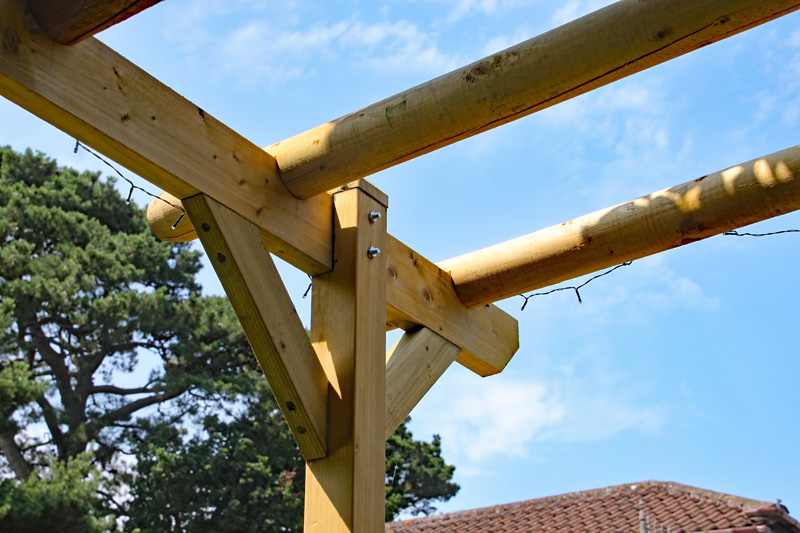 Your local building department will guide you through the permitting process to be sure you're doing everything safely and up to code. If you use a professional to install a pergola, they will pull a building permit on your behalf. If you're building a pergola in Castle Rock, you can pull the permit yourself. However, letting your landscaping construction company pull the permit protects you in the event that problems with construction arise.
How Much Value Does a Pergola Add?
The value of a pergola depends on homeowners, but any pergola will add value to your overall property. It's best not to think of pergolas in terms of concrete dollar values, but the aesthetic quality and overall appeal they provide. As we mentioned above, Colorado homeowners love their outdoor spaces and any garden or backyard with a more finished quality (a beautiful pergola) will be more appealing. Colorado is one US state where outdoor spaces add the most value to home values.
Using a Professional to Install Your Pergola
Some homeowners can build pergolas on their own, but unless you have the right tools and knowledge you should utilize a professional to install your pergola. A professional landscape company, like JS Enterprises, can help you choose the right colors and materials, pull any necessary permits, and install a gorgeous pergola that meets building code and matches your surroundings.
Building a Pergola for Your Garden
Know that we've established the answer to "what is a pergola," if you're ready to give yourself a relaxing space to enjoy your garden, pergolas are an easy bet. Pergolas are affordable, quick for professionals to install, and add a ton of character in short time. Call your JS Enterprises to get the pergola and custom landscaping process started today.