Things to Consider When Building a Pond
The past several years has seen an increase in homeowners that want to get back to nature, even in Colorado. More homeowners are eschewing lawns in favor of native shrubs, xeriscaping and more homeowners are setting up their property to welcome in local wildlife. The last few months have seen demand increase even more, as less people were able to get out into nature during the Pandemic.
If you want to reconnect your property with nature while giving yourself a respite in these tough times, installing a pond, also known as a water feature, is a great way to do it. Ponds come in countless shapes and sizes and are used for many things, but all ponds encourage visits from local wildlife and provide a relaxing setting for homeowners.
If you're wondering if a pond is right for you, let's learn a few things to consider when building a pond; including pond construction, excavation, shape, custom landscaping for installing a pond, and more.  
Factors in Building a Pond
Pond Construction – Unfortunately, you can't start digging a hole in your backyard and expect to produce a beautiful DIY masterpiece. There are many questions you need to ask yourself to "do-it-yourself" or hire a professional, if you want fish, whether you need to rent heavy equipment, and much more.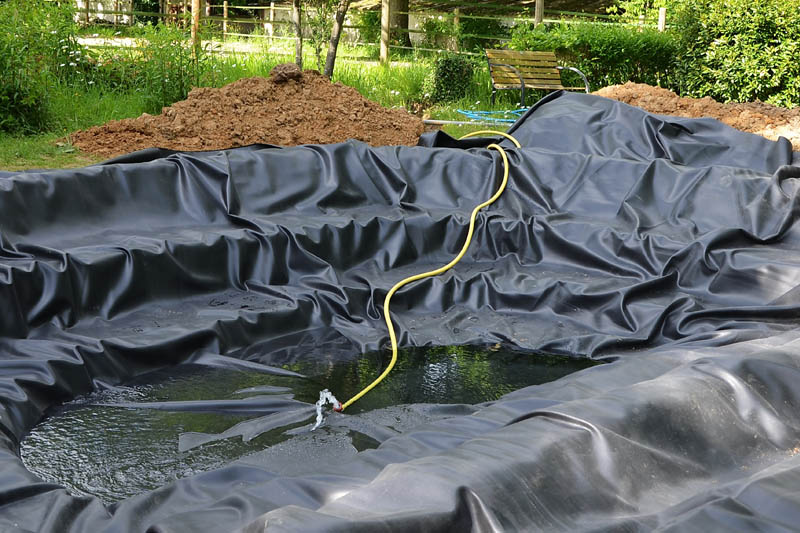 If you're planning for a DIY install, do your homework by thoroughly researching techniques and materials. Because so many things in ponds can go wrong, they're not normally recommended for DIY installation but 'starter pond' DIY kits are manageable for most homeowners. It's also important to check with your town and HOA before embarking on a pond building project. In Castle Rock, Plum Creek allows water features, but North Meadows may not.
Pond Excavation – How big of a pond can you excavate? What are the rules on diverting water to or from your pond? Are there utilities under your excavation site? Do you need to rent equipment? Messing up the excavation can cost you time and money, do your homework first.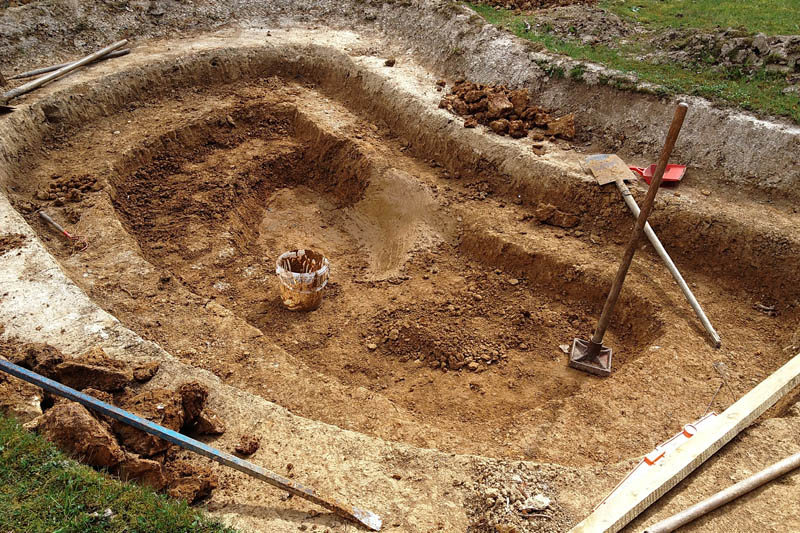 Pond Shape – Your pond's shape and size will depend on your wants, needs, budget, and property. Choosing the shape is one of your biggest choices for the development of the pond. If using a preformed pond liner your choices will be limited, but if building a custom pond the choices are endless.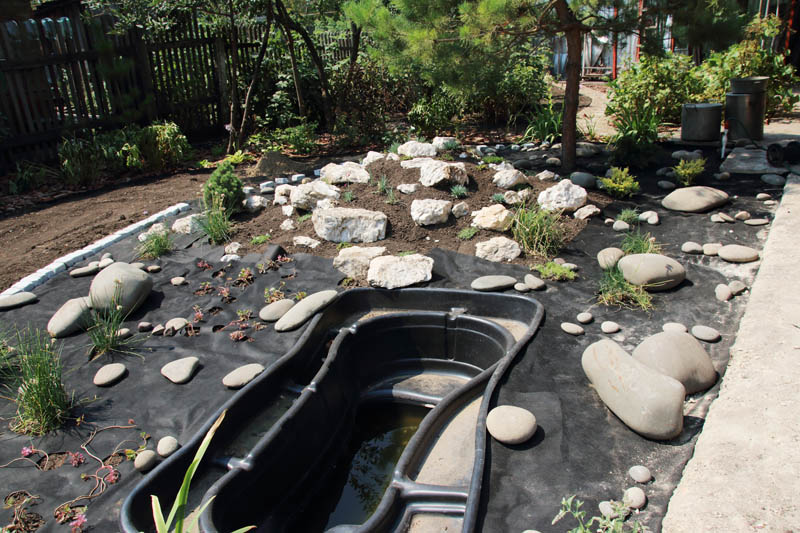 Best Place to Build a Pond – Location is critical for pond construction. Ideally you want your pond to receive at least six hours of daily sun, but not full sun which will encourage algae growth. You should also choose a site away from trees or plants that tend to be messy like fruiting trees or cottonwoods. At JS Enterprises, we have the necessary experience to help you determine the most suitable sites.
Other Factors to Consider in Pond Construction
Fish – Fish need certain thresholds of sun, oxygen, space, and nutrients. All these factors and more will determine what type of fish can thrive in your pond.
Wildlife – A pond can host crawfish, frogs, turtles, aquatic insects, and plants around the pond can encourage pollinators. When building your pond think further than fish for a private ecosystem in your own backyard.
Children and Safety – Ponds can be hazardous to small children but are generally safe. Always monitor small children near a pond and consider a child-proof barricade if small children will regularly visit the pond. The depth of your pond is an important factor if you have children. Also, the HOA may require you to fence your yard and you Home Owner's Insurance might need to be notified of the addition.
Local Weather – In Colorado the mercury dips well below freezing on a regular basis. Local weather, especially low temperatures, make a big difference in what type of ponds are available and what you can do with your pond. Small, shallow ponds are likely to freeze up when temperatures drop while larger, deeper ponds might only ice over.
Your local weather and the type of pond you build need to work together if you're aiming for a functional pond with fish or other water features. Contact JS Enterprises for more help with your pond choice.
Looking for some landscaping ideas for your pond? Get inspired with some of work we've done and other great images from around the web.
Using a Landscape Professional When Building a Pond
Ponds are notoriously difficult DIY projects, but landscape professionals have the experience, knowledge, and tools to install a beautiful pond that matches your needs and property. At JS Enterprises – Custom Landscaping, we can install a gorgeous pond on your property that gives you and your family a personal refuge. The world might feel upside down now, but a pond can help reconnect with what's important.