How to Grow Colorado Blue Spruce Trees
The official state tree of Colorado is the majestic Colorado blue spruce. You can find Colorado blue spruce growing in suburbs, out in the wild, and in nearly every corner of the Centennial state, but what about growing a blue spruce on your property?
The Colorado blue spruce's symmetry, compact branching, and gorgeous blue hue make it a great tree to grow on your property – if you take the right steps. Let's learn how to grow Colorado blue spruce, from plant selection to tips on maintenance so your blue spruce stands tall for decades.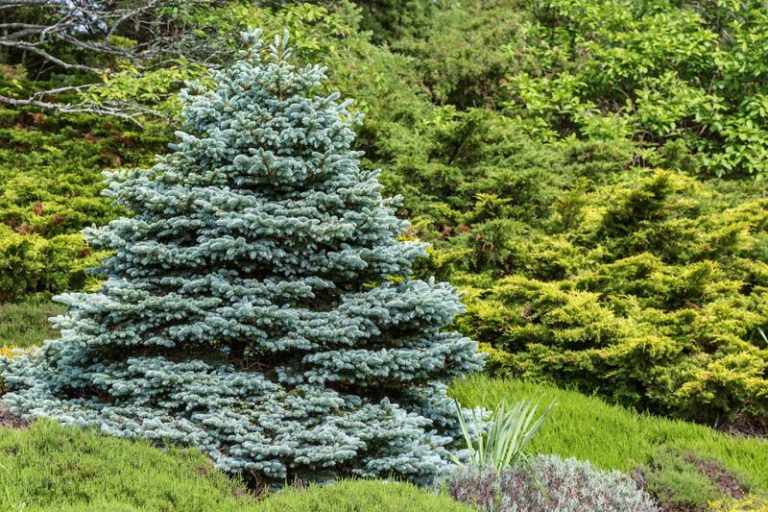 How to Plant Colorado Blue Spruce Trees
For the best blue spruce, you need the best blue spruce saplings. Look for the following qualities when choosing a blue spruce sapling:
Only choose saplings grown in Colorado.
Look for strong, compact branches. A strong looking sapling makes for a stronger blue spruce after planting. Never settle for a weak-looking sapling.
Check for bugs, fungi, and other pests that shouldn't be on the sapling. Check the dirt too.
Decide on Size. You can purchase blue spruce as six-inch saplings up to 500-gallon trees. The smaller the spruce, the less expensive and easier to install, but it will take longer to reach its full majesty and is more prone to disease and transplanting issues. Larger blue spruces are more expensive and difficult to install, but older trees are hardier than small saplings and will grow to an enjoyable size much faster.
Putting a Blue Spruce in Colorado
Unlike many plants, its best to plant blue spruce during the dormancy period of November to March. Planting during cold temperatures allows the blue spruce to develop roots for the spring season.
Choose a site with full sun, loose draining soil, and plenty of elbow room.
Dig a hole as deep as the root ball and at least three times the width.
Drop the spruce in the hole so that it's at or just slightly above ground level.
Back fill the hole with a 50/50 mixture of the dirt you dug up and added soil conditioner, compost, or a topsoil mix.
Using leftover dirt, build a 3-inch berm around the tree to retain moisture.
Water deeply.
Spread pine straw, bark, or other mulching material around the root ball at a depth of 2". Mulch will help retain moisture and ward off weeds.
How Far Apart Do You Plant CO Blue Spruce Trees?
Colorado Blue Spruces are known for their great height and width when mature. While wild blue spruces can reach over 120' high and 35' across, most blue spruce for residential landscaping will only reach 50-75' tall with a 10-20' spread. Even landscaping blue spruces will need a significant amount of growing room. Leave at least 20' for room for growth around any blue spruces.
How to Trim a Colorado Blue Spruce Tree
Trimming and pruning on Colorado blue spruce is minimal due to its natural architecture and slow growth but many homeowners like to shape their spruce for residential settings. If you need to trim your blue spruce, follow these tips: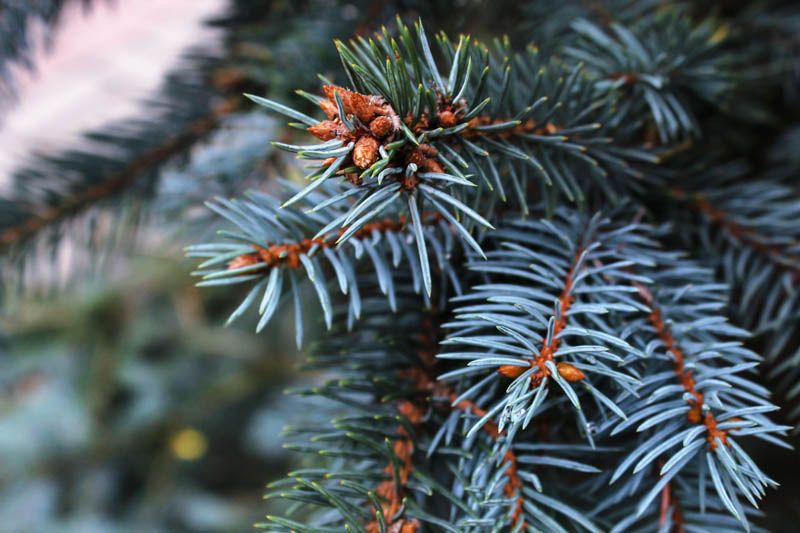 Prune just after new growth appears, trimming in the dead of winter is not recommended.
Always trim out dead and dying branches. Cut dead branches to the trunk of the spruce.
Trim wayward branches sticking out of the canopy.
Save any significant trimming for a certified professional.
Tip: Blue spruces sap is extremely sticky, always wear gloves while pruning.
Using a Professional to Grow Colorado Blue Spruce
Large blue spruces take a professional to plant due to the heavy equipment necessary. If you want a large blue spruce installed, need help trimming your current blue spruce, or have other questions – Contact JS Enterprises, your
Colorado landscaping
professional. Certified landscapers know how and where to plant a blue spruce for maximum health and can buy blue spruce saplings at wholesale price which can save on your bottom line.
Get Out and Plant a Colorado Blue Spruce
The gorgeous Colorado blue spruce makes a welcome addition to any property, neighborhood, or rural setting. Choose the right type of plant, take care while planting your spruce, and give your new tree plenty of room to grow. With these tips and the help of a landscape professional your blue spruce will turn heads and add character to your property for you and eventually your grandchildren.
When you're ready to get started with your custom landscaping project, give us a call for a free estimate. Whether it's planting a Colorado Blue Spruce, building an outdoor kitchen, water feature, hardscape, or any other custom landscape project, the professionals at JS Enterprises can build the landscape of your dreams.