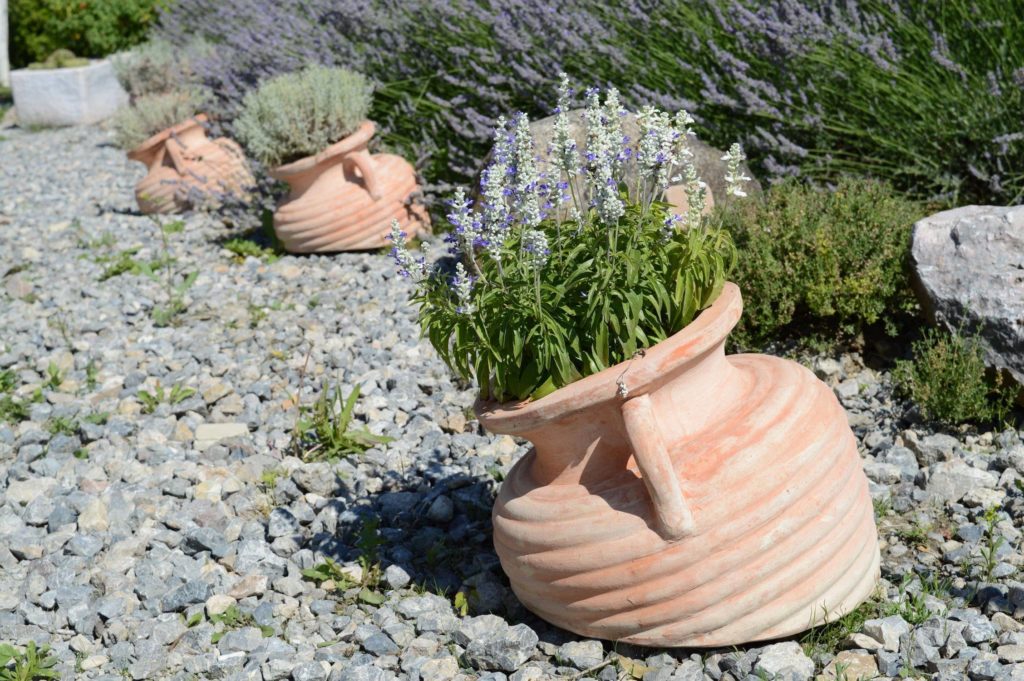 Grow Perennials In Containers: Top Choices For Colorado's Colorful Gardens
Are you looking for a way to add vibrant color and texture to your Colorado garden? Perennials are the perfect choice. By growing them in containers, you can easily control the environment they need to thrive. You can create beautiful gardens featuring perennial plants that will last for many years with the right combination of soil, sun exposure, watering, fertilizing, and pruning practices. Let's look closer at how you can select and care for perennials in container gardens so that your garden is always brimming with gorgeous blooms!
Selecting the Right Container
Choosing the right container for your colorful perennials is key to having a vibrant garden – so let's get started! Size and material are two of the most important factors when selecting a container. Choose a size that allows plenty of room for roots to grow, appropriate drainage, and easy maintenance. Durable materials such as wood, ceramic, or galvanized metal best suit Colorado's climate. Avoid plastic containers if possible; they tend to crack in extreme temperatures. Be sure to check if any conditions need special attention such as water retention or UV protection.
What Perennials Grow Well in Containers?

You can create a stunning garden with perennials in containers. Coral Bells, Yarrow, Columbine, Purple Coneflower, and Zinnia are all great options for adding color to your container garden. These gorgeous flowers come back year after year and will thrive in Colorado's climate if planted correctly.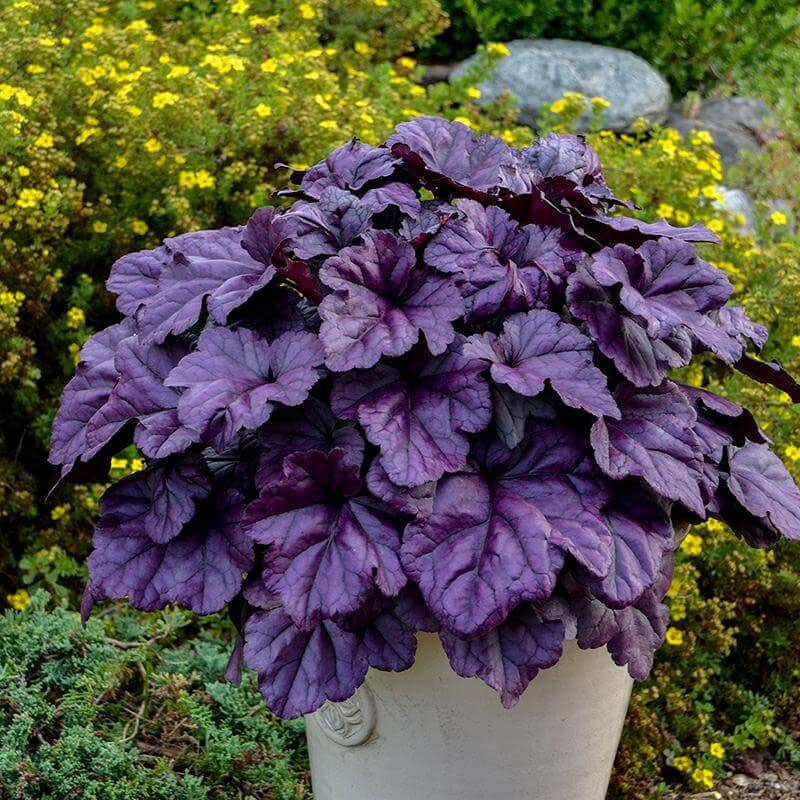 Coral Bells
Cascading with grace, Coral Bells add a burst of color to any garden. These perennials are an excellent choice for Colorado gardens thanks to their wide variety of colors and textures. They come in shades of red, pink, purple, white, and green. Their foliage ranges from deep dark hues to delicate silver veining on the leaves. The flowers often bloom in clusters on thin stalks above the foliage, adding additional interest and texture. Coral Bells thrive in containers since they don't require much space or soil depth; however, they do need regular watering and fertilizing to remain healthy. Planting them in larger containers also gives them more room for their roots to spread out and grow stronger. When it comes time to winterize your plants make sure you keep the soil dry and cut back the stems as far as possible to help protect them against cold temperatures.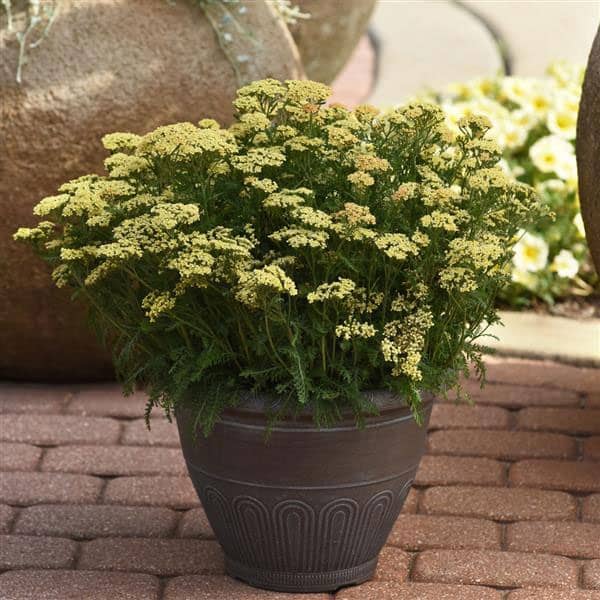 Yarrow
Yarrow is a sophisticated choice for any garden, offering a wide range of colors and textures that will bring an elegant touch to your landscape. With its long-lasting blooms ranging from ivory white to vibrant yellow, pink, orange and red, you can create stunning combinations. Yarrow is also drought-tolerant and low maintenance making it the perfect addition to Colorado's colorful gardens.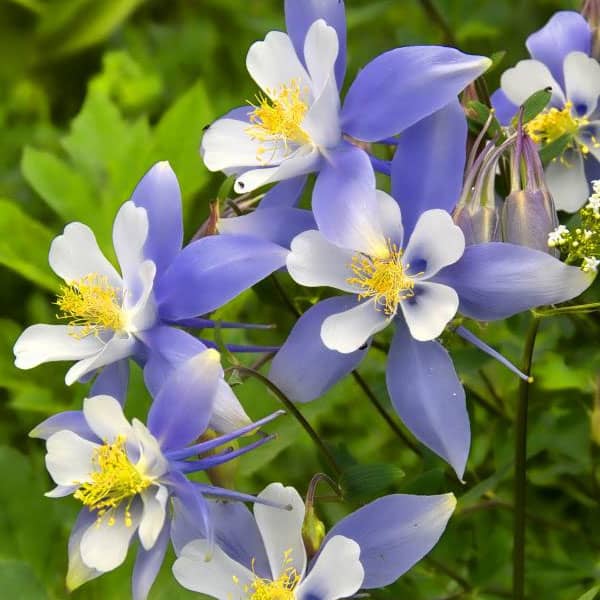 Columbine
Columbine is a stunning addition to any garden, boasting beautiful bell-shaped blossoms in an array of brilliant colors. From deep blue to vibrant yellow and even orange-red, this perennial is sure to add a splash of color to your garden! Columbines grow best in containers with well-draining soil and plenty of sunlight. They are known for their strong root systems that spread out quickly, so make sure the container you choose is big enough. Deadheading spent blooms will help extend the flowering season throughout summer and fall. To keep these plants healthy, water them regularly and feed with an all-purpose fertilizer every few weeks.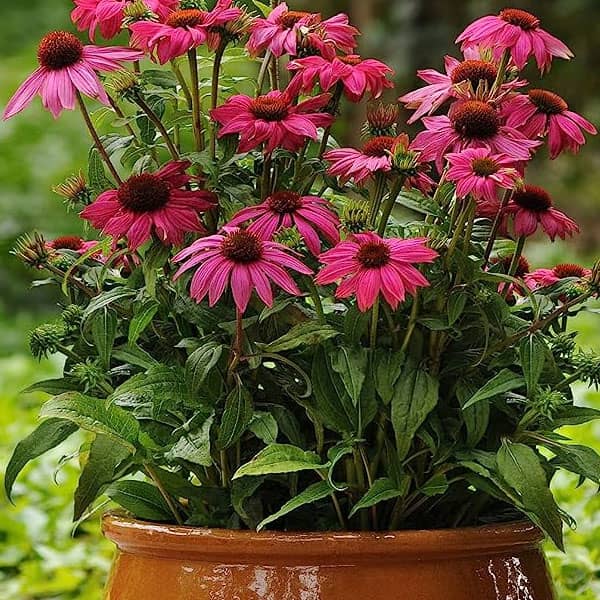 Purple Coneflower
The transition from Columbine to Purple Coneflower is easy. Not only are both flowers native to Colorado, but they have a few similarities like stunning beauty and long-lasting blooms. However, the Purple Coneflower stands apart with its striking deep purple petals contrasting with bright yellow centers. This regal flower is easy to grow in containers; it thrives in full sun and medium soil conditions. It's also very tolerant of drought, making it an ideal choice for Coloradan gardens. The plant can reach heights up to three feet tall and will bloom all summer long with beautiful blossoms that last up to two months. A favorite of bees and butterflies, its attractive color scheme makes it an eye-catching addition to any garden.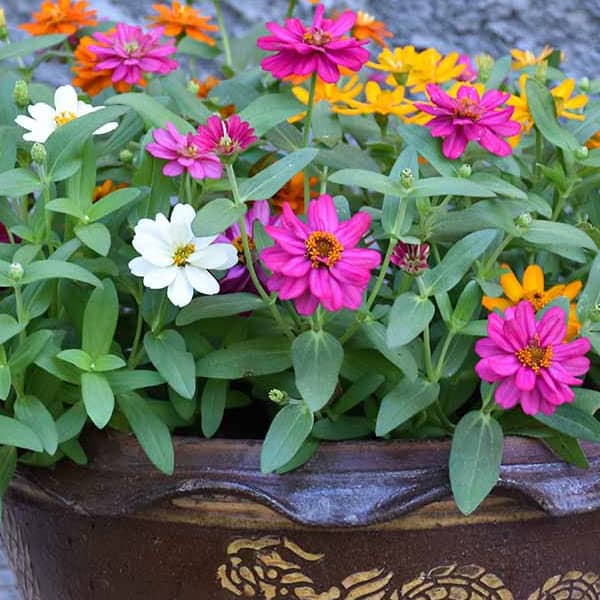 Zinnia
You'll love the bright, cheerful colors of Zinnia flowers, perfect for adding a splash of life to your outdoor space. The popular Zinnia is easy to grow from seed and does not require much maintenance; it's an excellent choice for beginner gardeners! Zinnia thrives in full sun and well-drained soil; however, it can also tolerate some shade during hot summer days.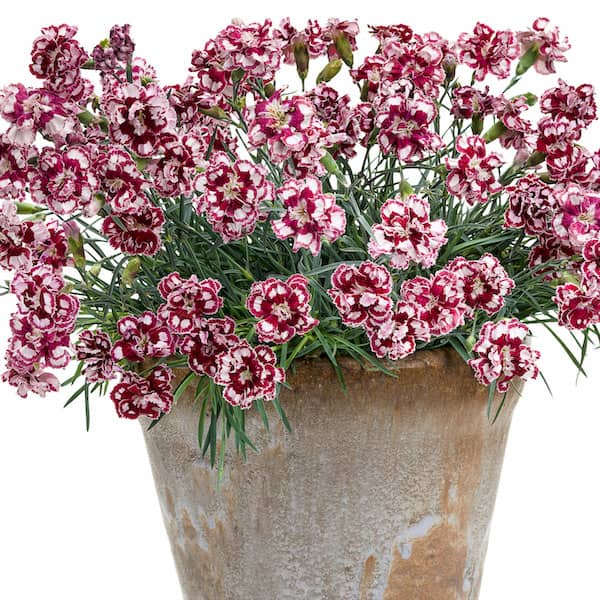 Dianthus
Dianthus, with their frilly petals and sweet scent, offers a delightful addition to any garden. The genus Dianthus includes many varieties of annuals and perennials native to Europe and Asia. These colorful plants come in an array of bright hues such as pinks, purples, reds, whites, and bi-colors. As container plants, they can reach heights between 6-18 inches tall with a spread of 12-24 inches wide. They prefer full sun or light shade and well-drained soil that is rich in organic matter. Water regularly until established then decrease the frequency as needed while avoiding waterlogging. For best results, deadhead spent flowers to encourage new blooms throughout the season.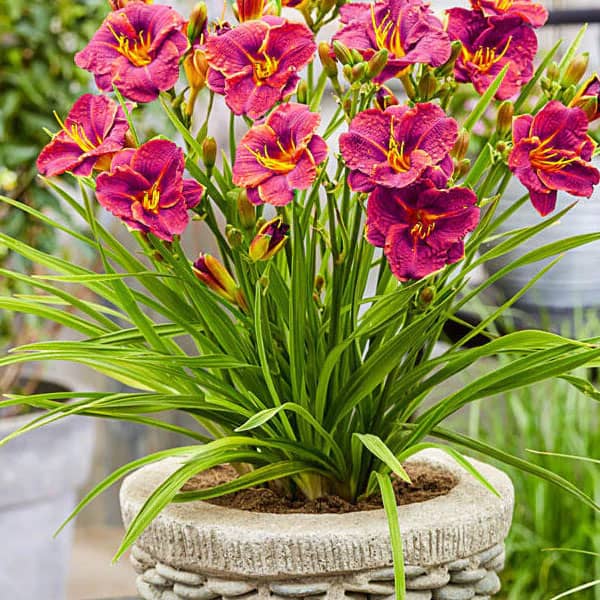 Daylily
Daylilies will bring a burst of beauty to your garden with their bright, vibrant blooms! Daylilies are popular perennials in Colorado, as they thrive in the climate and produce big, showy flowers throughout the summer. They're easy to care for and need little maintenance - just some water and mulch. You can plant daylilies in containers or directly into beds or borders for a full-on floral display. They come in a variety of colors including yellow, pink, orange, and red – so you can find something that'll match your aesthetic. These drought-tolerant plants also attract bees and butterflies, adding even more life to your outdoor space.
Russian Sage
Russian Sage is a versatile and low-maintenance plant that can thrive in any type of soil. It is a favorite among gardeners who want a showstopper in their gardens, as it offers vibrant color throughout the growing season. With its long stems, Russian Sage is also an ideal accent plant that adds contrast and height to any container. One of its most appealing characteristics is its drought tolerance, which makes it practically maintenance-free once established, requiring minimal water. Additionally, Russian Sage has few natural predators, making it less likely to be damaged by insects or fungi. It also produces very few seed heads, reducing the risk of weed invasion in your yard or garden bed. If you are seeking low-maintenance beauty, Russian Sage is the perfect choice. Its low-growing habit means you can enjoy its beauty without constantly pruning or deadheading the plants. Furthermore, it only requires minimal fertilizing, with just one application each year being enough to keep it thriving.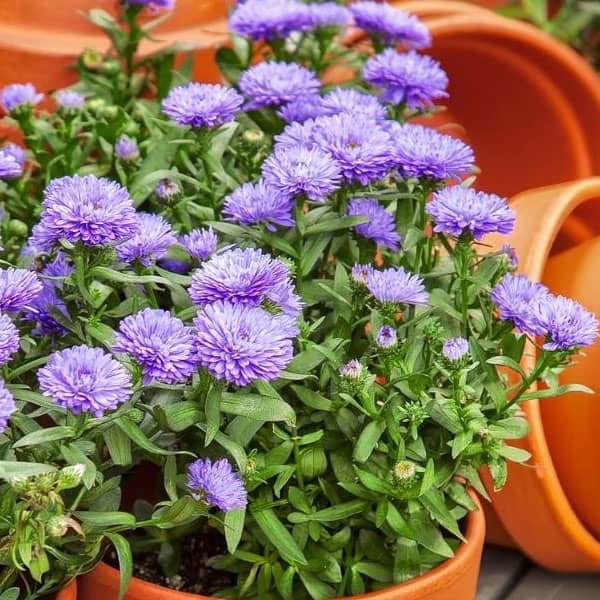 Asters
Asters bring an eye-catching touch of beauty to your garden with their bright colors and star-shaped blooms! They come in a variety of shades, including red, purple, pink, white, and blue. Asters are hardy perennials that can thrive in many soil types, making them the perfect choice for container gardens. Plant them early in the season to ensure they have plenty of time to bloom before winter arrives. Planting several varieties together will create an even more vibrant display of color. To keep asters looking their best throughout the season, be sure to water regularly and fertilize frequently during the growing season. Deadheading spent flowers will help encourage new blooms as well as keep plants looking tidy.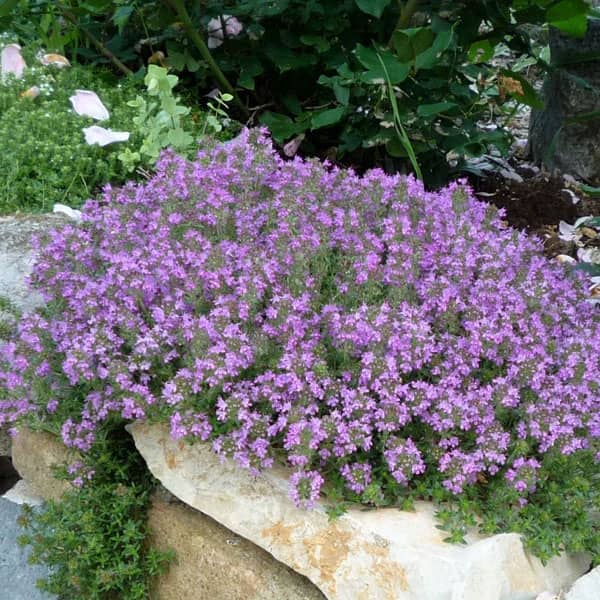 Creeping Thyme
Creeping thyme is a versatile groundcover that can enhance the aesthetics of your garden while also providing functionality. With its low-growing nature, it adds beautiful texture and a subtle fragrance to your outdoor space. The small, aromatic leaves of creeping thyme can be utilized for cooking, adding both flavor and visual appeal to your meals. When planted in containers, creeping thyme offers a range of benefits. Its delightful purple or pink flowers bloom in the summer, creating a visually pleasing display. The soft foliage of this plant emits a pleasant scent, further enhancing its appeal. It is particularly effective when planted among stones and rocks, creating an attractive contrast. In terms of functionality, creeping thyme is drought resistant once established, making it a low-maintenance addition to your garden. It grows rapidly, providing quick coverage for large areas. This groundcover can thrive in both full sun and partial shade locations, offering versatility in terms of placement. By combining different colors and varieties of creeping thyme, you can create a unique and captivating look in your container garden. Overall, adding creeping thyme to your garden design will bring both beauty and practicality to your outdoor space.
Determining Soil Requirements
Choosing the right soil for your container-grown perennials is critical for vibrant blooms and healthy plants. When growing creeping thyme, you should look for a well-draining potting mix with a neutral pH level. The best way to measure this is with a soil test kit, which can be purchased at most nurseries or gardening stores. To ensure proper drainage, consider mixing some perlite or coarse sand into the potting mix. Aim for an airy texture with good water retention capacity that allows water to pass through without becoming soggy. Additionally, make sure your containers have several drainage holes at the bottom of them so excess water can escape easily. With the right soil requirements met, you will be able to enjoy beautiful and fragrant blossoms from your creeping thyme all year round!
Now that you've got a handle on the soil requirements for your container garden, it's time to figure out how to maximize sun exposure. While Colorado is generally sunny, you'll want to consider both the amount and quality of sunlight for your plants. Aim for at least six hours of direct sunlight each day; if possible, try to give them more! Consider finding a spot in your yard that gets morning light and afternoon shade or vice versa – this will help protect delicate foliage from burning in the intense midday heat. Additionally, avoid areas with reflected heat (like near metal fences). With these tips in mind, you can ensure your perennials get plenty of sunshine and grow vibrantly all season long.
Appropriate Watering Practices
With the right watering practices, you can give your container garden the nourishment it needs to thrive. From selecting the right soil mix and containers to choosing plants that are well-suited for Colorado's climate, small steps like these can have a big impact on your garden's success. Here are five tips for watering your vibrant perennials in containers:
Check regularly — Aim to check your plants every day and water when needed.
Water deeply — Perennial plants need deep watering so that their roots can grow deep into the soil which will help them become stronger and more drought-resilient.
Consider irrigation — If you're planting large areas or have a challenging schedule, consider installing an irrigation system to ensure adequate water is provided.
Avoid overwatering — Too much water can lead to root rot or other plant diseases, so be sure not to overwater your plants.
Watch for signs of stress — Wilting leaves indicate dehydration and yellowing or drooping leaves may indicate too much moisture in the soil; adjust accordingly.
Fertilizing for Optimum Growth
Fertilizing your plants regularly can help them reach their full potential and provide a lush, flourishing display. A slow-release fertilizer is recommended for perennials in containers. This type of product will provide the plant with nutrients over an extended period of time, reducing the need for frequent applications. To ensure healthy growth, start with a balanced fertilizer that has equal amounts of nitrogen (N), phosphorus (P) and potassium (K). Avoid fertilizers high in nitrogen as this can lead to excessive foliage growth at the expense of blooms. In addition, always follow directions on the package and apply according to label recommendations. If you find that your plants are not growing well despite regular feeding, it may be worthwhile to have soil tested to identify any deficiencies or toxicities that could be causing issues with growth.
Pruning is an important part of maintaining vibrant and healthy plants, so it's important to know the best practices for doing so. These include:
Removing dead or damaged branches in order to promote healthier growth;
Pruning during the dormant season, usually winter, as this has been proven to be most beneficial;
Regularly trimming off any unwanted foliage or stems that may be obstructing other plants' access to light and airflow.
You've now got all the information you need to start growing vibrant perennials in containers for Colorado's colorful gardens. Select the right container, find suitable perennials, determine soil requirements, maximize sun exposure, practice appropriate watering and fertilizing techniques, and prune your plants correctly for optimum growth. With these tips in mind, you'll be able to create a beautiful garden with plenty of color that will last for years to come!